A Cookie is a piece of code that allows the web server to identify and track activity of the web broA Cookie is a piece of code that allows the web server to identify and track activity of the web browser. They are widely used in order to make websites work more efficiently, as well as to provide information to the owners of the website. We take your privacy seriously and use Cookies in line with the privacy principles as set out in our Privacy Policy.wser. They are widely used in order to make websites work more efficiently, as well as to provide information to the owners of the website. We take your privacy seriously and use Cookies in line with the privacy principles as set out in ou
TERMS OF USE By accessing and using this website you accept and agree to terms and provisions of this agreement. This site and its components are offered for information purposes only;this site shall not be responsible or liable for the accuracy, usefulness or availability of any information transmitted or made available via the site and shall not be responsible or liable for errors or omissions in that information. Disclaimer for liability resulting in the use of this website. You shall be subject to any guidelines or rules applicable. Any participation in this site will constitute acceptance of this agreement. If you do not agree to abide by the above or within rules, please do not use this site. All Paintings on this site are Copy write and shall not be copied or printedfor any purpose.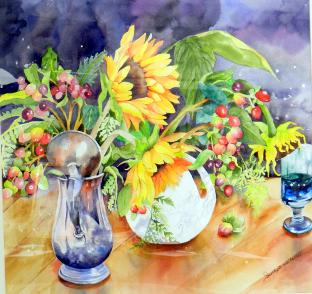 How do you decorate with paintings? How do you bring the right colors to enhance your room?
What type of frames and matts to enhance your painting?
These are questions that I can answer if you send me your question and which painting your interested in purchasing I can explain the different types offrames and why you choose one over the other etc.
CONTACT US all paintings are purchased through Pay Pal questions please email or fill out form below.